1992 
Nov. 25, 1992 - I was born with absolutly NO religion at all.
1993 
In the spring of 1993 - I was adopted by a couple of Catholics. 
1994
I was diagnosed with Autism. 
2009 
Dec. 15, 2009 - I got backfired from a spell cast at around 9:45pm 
2010 
Aug. 27, 2010 - I wanted to go to a Pagan Pride Festival at Elison Park in Rochester, NY on Sep. 25, but I can't because of my parents.
2011 
Feb. 14, 2011 - I showed my CAD teacher my band logo and to see if he can give it style with flames and etc.
Feb. 15, 2011 - I signed up for CLUBPXY from 98PXY radio station and joined a contest to try and win concert tickets to go see: New Kids On The Block with The Backstreet Boys in Buffalo, NY. If I don't win I'll just buy the tickets myself. It's that simple. 
Feb. Break - I may get a demo recording to see if I'll get a record deal. 
I didn't go to the recording studio because there was something going on 
July. 20 - Currently looking for a job. I need money for recording studio's etc. I'm interested in working at Arlene's Costumes at the GreeceRidge Mall in Greece, NY.
Sept. 10 - I finally went to the Rochester Pagan Pride Day Festival. Without my parents. I went with a staff from my group home.
Oct. 1 - I finally got a job and earning MONEY!!!!!!!! I'll be using some of my pay for the recording studio ;)
Oct. 31 - I went trick O treating with my big sisters. Just like old times when I was young. I had so much fun. We laughed at each others jokes, etc. Just like old times.
Dec. 15 - I got my first song recorded!!!!!!!!!!!!! "The Witches Are Coming To Town".
2012 
March. 2 - I bought myself a deck of Tarot Cards. It came with a book that tells you which card means and it came with a layout of how the cards should be positioned.
April 11 - My Christian Girlfriend broke up with me and I caught her cheating. :( But luckly I'm on a couple Pagan Dating sites. ;)
May 24 - I rode my HUFFY bike on the trails around Webster Park on a hot humid sunny day and it was a bumpy ride going over the tree's roots showing and I was like, "Sorry I have to do this mother earth but I gotta run over your tree's roots." And a hill was sooo steep that I had to get off my bike and walk it up the hill. And I must have been going at least, a little over 5mph on this one trail. I was cruising. If you live in the Rochester area in NYS and in the town of Webster, and if you decide to go hiking at Webster Park, you may get a 50/50 chance that you might see me riding my HUFFY bike because I written DeerFire with a permament marker on the frame on both sides. I know that any earth religions don't like to see nature getting hurt in any way. But those tree roots were covering the trails in some spots. I had to get through because I was with a group.
July 7 - I drank a Boush Beer for my first time. But I know it's illegal to drink under age but I just want to get a taste out of it. I drank the whole can. I never even felt drunk at all, I wasen't dizzy or anything. But it was just one can which is probably the reason but if I had two or more cans in a row, Than I would feel the effects. After the can was empty, I felt older like a man. But I'm a young adult so I just have 2 more years to drink.
 July 9 - My sponsership for Witchvox came in. Now I'm a Witchvox Sponser. I'm so excited.
July 12 - I saw a Buck outside my window. But I know that most of you would prabably say Stag but I said Buck. Same thing. Anyways, It was right outside my window eating grass. It was around 9:30pm. I went outside to try and feed it some raw carrots. It was staring at me. It was hard to see but I can tell he was. So I gently tossed a carrot towards it. It didn't care. It just went back to eating. So I tossed another carrot. It ran away. It must of not wanted to be bothered LOL But I knew that Buck or Stag was 2 years old. Because if it was born this summer, it would still have it's spots. But I can tell how young by of how heathy his fur coat was, how tall he was, and that his antlers was still covered with velvet. That buck or Stag is growing his antlers back in because they fall off every winter and look all bloody and gross but I don't care because I love deer and I know their life just as I know our human life. It's like I'm part of their family, their kind, their herd. I love deer and I'm a new deer expert.
Sept. 9 - The Rochester Pagan Pride Day Festival was CANCELLED due to severe t-storms, heavy rain and possible tornados in some areas. But there's always next year. ;)
Sept. 17 - I've earned my Driver's License. I can now head down to any Pagan event on my own. NO matter how far the drive (Unless if the orginizer of that festival over in California wants me to be there for a speaker, special guest, etc. I will be there but I will most likely go to a more closer Pagan event like the one in Connecticut or New York City, but no where that's on the other half the U.S. or Canada. Plus I'm going to get my license enhanced so I can drive to Canada to that one Pagan event that covers a whole field of how big that one event is that I know. Don't worry, I will be there.
Oct. 13 - I went to Fright Fest at Darian Lake and went on this haunted bus ride through the Darian Lake Campgrounds and I died laughing when a peer from my group home got soooo scared from these two actors dressed as clowns got up close to him. He was hiding with his hood up so he won't see them. One was a girl clown and a boy clown. I was dieing laughing.
Nov. 12 - I've been thinking of quitting my DeerFire Pop Star business. Because my first song is crap, I don't sound that great. My songs are supposed to be a inspiration to YOU and other worldwide Pagans. My lyrics are what you should be listining to so they can speak to you. Not of how my voice is. So I'm planning on quitting my DeerFire business to a STOP. Please contact me if you have any questions.
Nov. 15 - First day it snowed this year. But didn't last long. lol
2013
Jan. 1 - I was driving my parents 2008 Dodge Grandcarevan and I got stuck in snow. Tires spinning and so I put the pedal all the way down to the floor and my tires are still spinning. So I put it in reverse and the tires were still spinning. ;P So I turned the wheel to go in an angle (Still in reverse), I got the van moving. Yay! 
Jan. 27 - I just bought the Brand New Playstation 3: PLUS! I'm so excited. Now I can use the internet with whole new experience. Where I live, I can pick up a WiFi signal so I can now keep you all posted and keep updating. ;) Here's the picture of my new PS3: PLUS, It may be hard to see with white background but this game system is very special because it's the limited edition and it's the only PS3 that is white.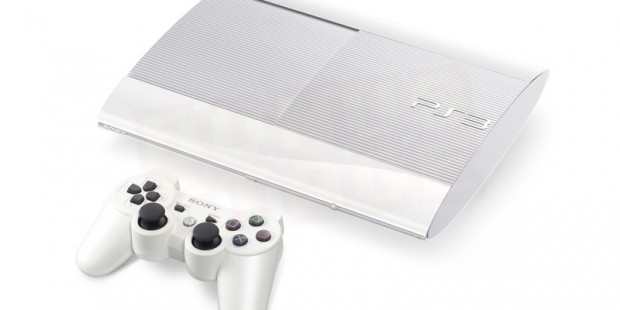 2014
 Jan. 6 - My job company "Wegmans" moved me to a new location. From Henrietta, NY to East Irondequoit, NY.
 Jan. 16 - I bought a Oujia Board (Wee-Gee)
Jun. 13 - I got fired from Wegmans Food Markets Inc.
July. 3 - I went to Sea Breeze Park. It was raining on and off and the worst is when it's raining and being on a rollercoaster with rain slamming in your face! It was brutal!
July. 4 - I saw some awesome Fireworks and I bought myself a big can of Monster Energy Drink to stay awake.
Sept. 27 - I attended Buffalo Pagan Pride Day Festival and I did a ritual for the very first time! I had fun! I got to spread the word about DeerFire while I was there. Most of them didn't knew what DeerFire was but I did get to tell them what I do and I am. And what my music is for. To me, it feels like DeerFire is more of a movement for this religion. Helping out to make this religion more open (without being selective) and making them feel more happy with no worries from what other people think. But I do hope DeerFire becomes a HUGE success! ;)
Sept. 27 thru Sept. 28 - I went to a gay bar for my first time and I had a blast there. I was at The Avenue Pub on Monroe Ave. in Rochester, NY where I live with my big sister. She is very supportive in me but I did found this guy I really like and so I introduced myself and we had a great time together! My sister bought be a Cosmopolitan, a Sex-Bomb, a Shot and my new guy bought me a beer. A Bud Light. My head felt light headed and the day after that, I did experienced my first hangover. I was exhausted and tired and felt a bit dizzy.  But I did had a great time. 
 2015
 Late May: I fell off my bike and got my two knees scraped up, and my stomach hurt. Well now it's Late June going on July and I'm fine now. Scars are gone! I'm a new man! LOL :P
Dec. 15: My dog Sammy passed away. Had to put him down because he had cancer. We poured as much money as we could to keep him alive but it wasn't working so we decided to put him down.  
                   2016
Jan. 16 - DeerFire started vlogging! ;)  
Jan. 30 - Got commited to a real and true relationship! I'm so happy!!!!!
Early Summer: Broke up with my boyfriend.